Anthony Quinn's Elusive Irish Grandfather
by Claudia Casillas
April 7, 2021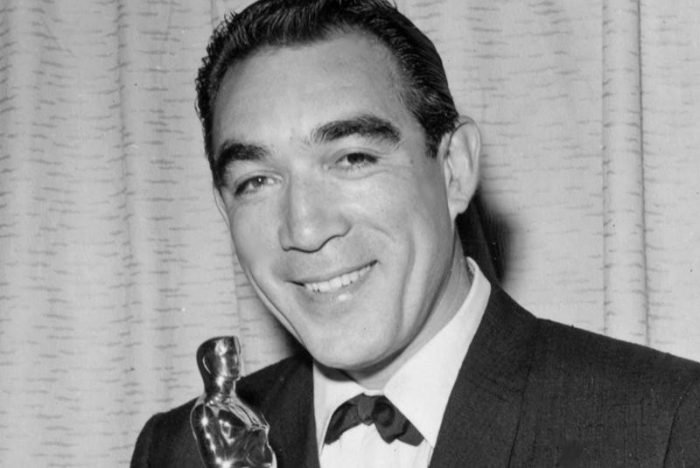 Legendary actor Anthony Quinn was the son of a half-Irish/half-Mexican father and a Mexican mother. Born in Chihuahua, Mexico and raised in Los Angeles, California, Anthony never met his Irish grandfather, Frank Quinn. He wrote in his autobiography that his grandfather, a railroad engineer, died in a train accident when Anthony's father was still a boy. 1 Nevertheless, documentary evidence reveals that Frank Quinn was very much alive, remarkably close, and outlived Anthony's father—who was also named Frank Quinn. Anthony Quinn died in 2001 at the age of eighty-six. 2
In The Time of The Mexican Revolution
Anthony Quinn's parents fought alongside Pancho Villa in the early days of the Mexican Revolution.
3
Francisco Quinn was about twenty years old, and Manuela Pallares was about sixteen or seventeen. Women who participated in the conflict played key roles such as "spying, gun running, fighting, foraging, cooking, and providing medical aid." They were also housed with the men in the same barracks.
4
When troop leaders learned that Manuela was pregnant, they sent her back to her home to Chihuahua city, in the state of Chihuahua.
5
On 2 June 1915, Manuela Pallares registered Anthony's birth in Chihuahua. The record shows his name as Manuel Antonio Pallares and his birth date as 23 April 1915. Manuela stated that she was eighteen years old and originally from Placer de Guadalupe, which is just outside of the city of Chihuahua. The record acknowledges that the boy was her "natural" son and omits the name of his father, who was presumably still fighting in the war.
6
The term "natural" was used In Mexican records when referring to a child born to unwed parents.
Anthony was baptized by the Catholic Church on 11 July 1915. His name was recorded as Manuel Antonio Queen with a birth date of 21 April 1915. The record states that he was the "legitimate son" of Francisco Queen and Manuela Pallares. His paternal grandparents were noted as Francisco Queen and Sabina Espinosa, his maternal grandmother was Maria Pallares; no maternal grandfather was named.
7
Manuela and Francisco had been married by a young Catholic priest while they were in the battlefields together and this explains why she would give her son's status as
legitimate
at his baptism.
8
Mexican civil authorities do not recognize religious marriages as legal, this may likely be the reason why in the civil birth record the boy's status was noted as
natural
.
9
When Anthony Quinn was born, Chihuahua was the epicenter of the Mexican Revolution. The people there were living irregular and uncertain lives.
10
Manuela and her infant son were alone without support and after taking the train to Ciudad Juárez, Chihuahua, on 2 August 1915 they crossed the northern border into El Paso, Texas. This is the first record in which Anthony appears as Antonio Rudolfo Quinn.
11
Almost two years later, after Francisco abandoned the revolutionary efforts, he reunited with Manuela and Anthony in Ciudad Juárez, which is just across the border from El Paso.
12
In Ciudad Juárez, on 16 May 1917, the couple declared their intent to marry civilly. Table 1 shows how their information was recorded by the clerk.
13
Table 1
Information Provided by Francisco Quinn and Manuela Pallares in 1917

| NAME / AGE / BIRTHPLACE | FATHER | MOTHER |
| --- | --- | --- |
| Francisco Quinn, age 23, Jiménez, Chi. | Francisco Quinn, deceased | Sabina Espinosa, from El Parral, Chi., widow, age 41 |
| Manuela Pallares, age 20, Chihuahua, Chi. | [not named] | Maria Pallares, from Placer de Guadalupe, Chi., single, age 39 |
Francisco and Manuela were legally married on 6 June 1917 and the record states that the bride and groom were living at the same address in Juárez, together with their mothers.14
Single Mothers: Sabina Espinosa and Maria Pallares
No marriage record exists in Chihuahua or Texas for either Sabina Espinosa, mother of Francisco Quinn, or Maria Pallares, mother of Manuela Pallares.15 The former gave birth to Francisco Isabel Espinosa, who would later be known by the names Francisco Quinn and Frank Quinn, on 5 November 1894. She registered his birth with civil authorities in Jiménez, Chihuahua on 19 November 1894. The record indicates Francisco was her "natural" son and that Sabina was originally from El Parral, Chihuahua, eighteen years old, and single. Francisco's maternal grandparents were Demetrio Espinosa and his wife Agapita Pérez. No paternal information was noted.16 Francisco was baptized by the Catholic Church in Jiménez, Chihuahua on 31 March 1895 as the "natural" son of Sabina Espinosa and the record likewise omits information about his father.17 Sometime between 1895 when he was baptized, and 1917 when he married, Francisco Espinosa became Francisco Quinn.
Anthony Quinn referred to his mother as Manuela Oaxaca. He wrote that she was the illegitimate daughter of Maria Pallares, a domestic worker and Jose Oaxaca, the nephew of Maria's wealthy employer.18 No birth or baptism record exists in the state of Chihuahua for Manuela Pallares or Manuela Oaxaca, daughter of Maria Pallares.19 Manuela's border-crossing record from August of 1915 states that she was eighteen years and three months old at the time. In 1928, Manuela filed a Declaration of Intention to become a U.S. citizen and gave her birth date as 26 April 1897.20
The Irishman
No death or burial record exists in Chihuahua for Francisco Quinn/Queen or Frank Quinn, father of Francisco Isabel (Espinosa) Queen born in 1894 and baptized in 1895.
21
There was only one Frank Quinn of Irish origin employed by the railroads in Chihuahua, Mexico during this period. He was a locomotive engineer with family and associates in El Paso, Texas. A locomotive engineer was a person in charge of operating a train. They controlled the movement, speed and stops of a locomotive. They also oversaw the physical maintenance of the train's engines.
22
A trail of records shows the movements and activities of this Frank Quinn:
The Mexican Revolution endured from November 1910 through May 1920. The railway systems were used by the rebels to transport troops and supplies.
35
In Chihuahua, sections of the railroad were completely shut down after rebels destroyed some bridges and tracks.
36
It appears that Frank continued to be employed in Mexico during the early years of the conflict.
In September of 1914, the Mexican government finalized a takeover of the National Railways. effectively nationalizing the services.
37
Frank was probably forced to leave Mexico around this time. He appeared in the 1914 El Paso city directory, without occupation, living at 1306 Magoffin Avenue with his sisters Kittie and Margaret.
38
Frank's sister "Kittie" was Catherine Quinn, who married Peter A. Bilodeau in El Paso in 1920.
39
His other sister Margaret Quinn, married Bryan Pfeifer, also in 1920 in El Paso.
40
Margaret's 1962 obituary says she was born in County Ross, Ireland to Mr. and Mrs. Michael L. Quinn and that "she moved to Mexico when she was 16, and eight years later moved to this country."
41
Frank's parents were Michael Quinn and Bridget Flynn, who were married on 12 February 1867 in the parish of Loughglynn, County Roscommon, Ireland. Their marriage record indicates they both resided at Cloonarrow, Castlerea, County Roscommon.
42
Bridget's death was registered on 29 August 1912; she died in Cloonarrow.
43
Michael was a farmer; his death was registered on 19 May 1913 and he also died in Cloonarrow.
44
Despite Anthony Quinn's assertion that his grandfather Frank was from Cork in southern Ireland, that is highly unlikely, as the records show that his parents married, lived, and died in Castlerea.
45
Only birth records for Frank's brothers James, John and Michael are available in the Irish indexes online; none for Frank or his sisters.
46
Frank Quinn was born between 1869 and 1872 and left Ireland for the Americas before 1885, when he appeared in the El Paso city directory as employed by the Southern Pacific freight depot.
47
He was likely between the ages of sixteen and eighteen when he left Ireland. It is unclear if Frank immigrated directly to Mexico before settling in Texas, like his sister Margaret. Available Mexican records for incoming immigrants in the 1800s end in the year 1873, before Frank Quinn's arrival. No Mexican record for any member of this Quinn family appears in the immigrant files of the early 1900s.
48
Available ship manifests for departing immigrants from Ireland begin in 1890, after Frank's arrival in the Americas. He does not appear in any arrival manifest in the United States from Ireland in the 1880s.
49
The Move Out West
Facing economic uncertainty in El Paso, Anthony Quinn's father Frank, sought work in California. After moving around the state doing odd jobs, between 1918 and 1919, he settled his family on the east side of Los Angeles. He soon found employment working in a motion pictures studio.50 When the family was enumerated in the 1920 federal census, Anthony had a little sister named Stella, and both of his grandmothers, Sabina Espinosa and Maria Pallares, were living with them at 632 Clover Street.51 On 25 February 1923, Anthony's grandmother Maria Pallares died. The informant on her death certificate was her son-in-law Frank Quinn, living at 676 S. Daly Street.52
Frank Quinn, of 676 S. Daly Street appeared in the 1924 Los Angeles city directory. The next name in the listing was another Frank Quinn, who lived at 1153 W. 73rd Street.53 They lived about twelve miles distance from one another. This second Frank Quinn was likely his Irish father who left El Paso, Texas for Los Angeles, California.
Frank Quinn the elder emerged in Los Angeles in 1920, where he was enumerated in the federal census as an unemployed locomotive engineer, born in Ireland, of unknown age. He was a lodger at 343 S. San Pedro Street.54 That address belonged to the Hotel Santa Rosa.55
On 26 June 1924 at St. Vincent's Catholic Church in Los Angeles, Frank J. Quinn, age fifty-two married fifty-year-old Jane A. McCarvill. The marriage certificate indicates that Frank J. lived in Ludlow, California, and was born in Ireland to Michael G. Quinn and Bridget (Flynn) Quinn. His occupation is noted as "railroad locomotive engineer." It was Frank's first marriage and Anne was a widow who lived in Los Angeles.56 The town of Ludlow is in San Bernardino County, about 160 miles east of Los Angeles. In the 1920s, Ludlow was the headquarters of the Tonopah and Tidewater Railroad, which transported mining supplies between Ludlow and Goldsmith, Nevada. It was also a connection point for other rail services to Los Angeles and the west coast.57
Irishman Frank Quinn's wife, who was born in Canada, filed a Declaration of Intention for U.S. citizenship in 1937. She gave her address as 218 ½ W. 73rd Street, which is only four city blocks from the address given for the second Frank in the 1924 city directory.58 Despite the thirteen-year difference in dates of records, the proximity of addresses and other evidence support the theory that both Frank Quinns, father and son, were listed sequentially in the 1924 city directory. No Frank Quinn was listed at 1153 W. 73rd Street in 1925 or 1926 and by 1927, another family lived at that address.59
Two Tragic Endings
On 10 February 1926, Anthony Quinn's father was killed instantly when a truck he was trying to flag down for roadside assistance struck him. The incident occurred a few feet from his home on 415 Hazard Avenue in Los Angeles.60 Frank's death certificate indicates his father was Frank Quinn, born in Ireland. The informant was his widow, Manuela.61
On 5 August 1929, engineer Frank Quinn, died in a train accident.62 Heavy rains caused an irrigation dam to break in southern Nevada, flooding the area in his train's path, damaging a bridge. His train derailed off the damaged bridge and plunged into the currents. Frank and another crew member drowned.63 Frank's funeral mass was given at St. Vincent's Catholic Church in Los Angeles on 8 August 1929. His Los Angeles obituary says that he was survived by his wife Jane A. Quinn and sisters Mrs. T.P. Cummings, Mrs. P.A. Bilodeau, and Mrs. B.B. Pfeiffer[sic].64 These surnames correlate with the marriages in El Paso for his sisters Catherine and Margaret. His sister Delia (Quinn) Shannon had a second marriage to Thomas Cummings.65
In 1948, Jane A. Quinn, of Los Angeles, California, "as widow and sole surviving heir of Frank Quinn" signed a quitclaim deed releasing her interest in the five lots that Frank purchased in El Paso, Texas in 1908.66 That same year, Anthony Quinn replaced Marlon Brando on the stage production of A Streetcar Named Desire.67
Both Frank Quinns, father and son, are buried at Calvary Cemetery in Los Angeles, California.
68
Conclusion
Irishman Frank Quinn was the grandfather of Anthony Quinn, an incredibly accomplished actor, yet no public account of him exists other than the anecdotes provided by Anthony in interviews and his two autobiographies. The story—as retold many times over—was that Frank Quinn died many years before the actor's birth. Whether the actor and his family knew that the Irishman was in their midst or not, the documentary evidence shows that he was, and that Frank Quinn the son, and Frank Quinn the father, were always on parallel paths.
---
Copyright © 2021 by Claudia Casillas